Contact Us
Tel: 0086 755 23248547
Fax: 0086 755 23248547
Skype:simon9969@hotmail.com
Linkman:Simon Gao
Postcode:518106
Web: www. injection-flow.com
E-mail:
simon@mpa-tooling.com
Address: Building Yonghui, No. 202, Changchun north Road, Guangming new district, Shenzhen city, China
MPA has the experience and depth of knowledge of the Mold flow system to competently help our customers turn more plastic into profit.
MPA Mold flow consulting services operates the full suite of Mold flow CAE programs for injection molding advice and undertake Mold flow simulation on the smallest medical device to the largest car instrument panel quickly and efficiently to give you practical solutions to complex injection molding problems . Our specialty is Mold flow simulation of the plastic injection molding process with the sole aim of identifying potential problems or areas where material or cycle time savings can be made in order to help our customers turn more plastic into profit.
How will a Mold flow Simulation benefit me?
How will a Mold flow Simulation benefit me? Efficient Process Conditions
Optimum Cooling for Cycle Time Savings.
Optimum Gate Position for Minimum Machine Size
Position Weld Line Where You Want Them.
Runner Balancing for Minimum Scrap.
Eliminate Gas Traps, Sink Marks & Burning
Minimize Clamp Force Requirements
Control Fiber Orientation
Even Part Shrinkage
Gas Injection Simulation
Reduced Warpage at Fast Cycles
Complex Problems Solved using Mold flow CAE Simulation .
The plastics injection molding process is integral to many of today's mainstream manufacturing processes. Industries such as telecommunications, consumer electronics, medical devices, computers and automotive all have large, constantly increasing demands for injection molded plastic parts. There are thousands of different grades of commercial of plastics materials with widely varying processing characteristics and complex part and mold designs are constantly pushing the limits of the process.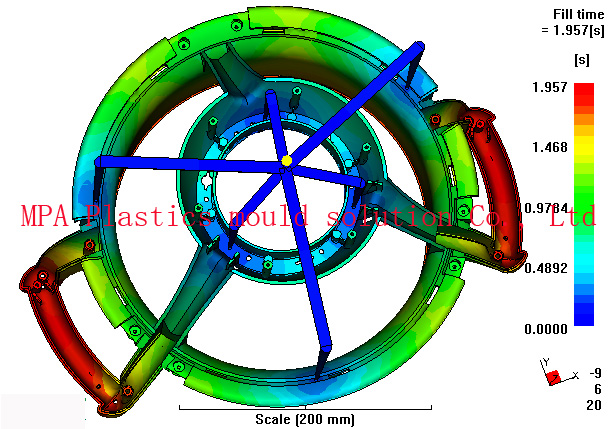 The production of injection molded parts is a complex process where, without the right combination of material, part and mold design and processing parameters, a multitude of manufacturing defects can occur, thus incurring high costs. Plastic Flow Simulation. (Mold flow) Computer aided engineering (CAE) tools are used to simulate the manufacture of plastic parts and the results help our engineers correct defects on the final design, before mould tool manufacture is completed.
The above factors bring a level of complexity to injection molding that makes it necessary to use Mold flow CAE tools to predict and solve potential problems before they occur. Additionally, the cost of tooling for injection molds can be very high and subsequent rework increases these already high costs. All these factors combine to make injection molding an ideal application for CAE simulation using Mold flow. MPA has been providing answers to complex moulding problems using Mold flow software for 10 years and able to supply quick practical solutions to keep your plans on track and within budget.
Efficient Cooling Reduces Manufacturing Costs.
Applying Mold flow Mpi software to cost reduction is our most sought after area of expertise. Wall thickness optimization and efficient mold cooling can reduce cycle times by as much as 20 percent. The payback is normally very quick and is multiplied many times over during the life of the product. Production rates are up, energy costs and machine times are significantly reduced. View our mold cooling page for more information.
The Injection Molding Process:
The injection molding process itself is a complex mix of time, temperature and pressure variables with a multitude of manufacturing defects that can occur without the right combination of processing parameters and design components.
Because of these complexities, today's plastic part and injection mold designers are under tremendous pressure. Project timelines are being compressed; scaling to high-volume production at times occurs literally overnight; there is a push to ever thinner-walled molding; mold design, mold making and manufacturing often occur across fragmented geographic locations.
Mold flow Plastic Adviser, Plastics Insight, Mold flow MPI, Mold flow communicator and Mold Adviser are Mould flow software products for simulating the injection molding of plastic materials. MPA use CAD Connectivity Tools to link structural CAD - CAE to MPI, MPA and MPX Community projects in the plastics and tool making industry. "Mold flow" is a registered trademark Mold flow Corporation & Mold flow Europe ltd.